#CoinFac announces #quantumcomputing #technology for #cryptocurrency mining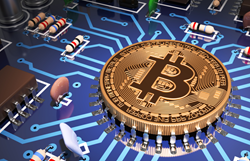 #CoinFac Limited recently introduce the next generation #quantumcomputing technology into #cryptocurrency mining, allowing current #Bitcoin and #Altcoin miners to enjoy a 4,000 times speed increase.....
According to PRweb, CoinFac, a #technology company established this year, has just introduced a next generation quantum computing tech, meant for #digitalcurrency mining.....
Quantum computing is vastly acknowledged as the next generation of #supercomputers capable of processing dense digital information and generating multi-sequential algorithmic solutions 100,000 times faster than conventional computers.
However each quantum computing server has an affordable price tag of $5 Million - $10 Million USD if you are a multimillionaire. On the other hand computers will be able to mine at the amazing hash speed of around 280,000 GH/s, enabling miners who invest into these servers to achieve unmatchable profits.
CoinFac Limited won't focus on cryptocurrency mining, however. In fact, they have been in close talk with the folks at #Google , #Microsoft and #NASA for possible #quantumcomputer integration according to themerkle.