U.K. City's Cryptocoin Offers Exchangeable Token For Volunteer Work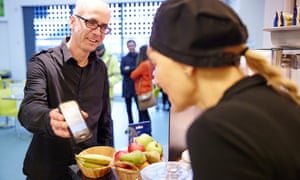 #Hull is the latest city to launch its own currency, using the same #technology found in digital #cryptocurrency #Bitcoin . But this version aims to reward #volunteers, not currency speculators.....
In 2014, #LisaBovill , a public servant specialising in welfare rights, and colleague Dave Shepherdson, decided to do something about it. If people could no longer afford the essentials of life – with catastrophic effects on individuals and #communities – then what was needed was a new way of paying.
Their big idea was to use the same #blockchain technology found in the digital cryptocurrency Bitcoin to generate a new kind of quantitative easing for the 99%. The difference was, their version, called #HullCoin , would reward volunteers, not currency speculators.....
--------------------------------------------
Will the blockchain really #empower the #disadvantaged as some of its advocates claim? If Lisa Bovill and Dave Shepherdson have anything to say about it, it will, according to The Guardian, based in London, U.K.
Bovill, a public servant who specializes in welfare rights, and Shepherdson, a colleague, are trying to implement a new type of quantitative easing that will benefit the disadvantaged using a cryptocoin called HullCoin that rewards volunteers for their efforts.....
..... #Localcurrencies are not new in the #UK In the 19th and 20th centuries; they came into practice when welfare systems and national currencies failed. The #BristolPound and the #Brixton are more recent initiatives to link a community's wealth with environmental goals.....
.....HullCoin could persuade more school children to use the center's library or assist with cleaning up after Christmas snows.....
....The creation of #spendingpower from #gooddeeds is what sets HullCoin apart from other community currencies. The Bristol and Brixton pounds need to be paid in sterling even if they outlive the local economy. HullCoin has no such limits. One doesn't need money to earn HullCoin tokens. In placing the issuing power in community hands, the project could reach those who most need it.
Linking #valuecreation to #socialcredit also provides a timely critique of the traditional money system. While #fiatcurrency relies on commercial banks to drive up interest and debts and thereby destabilize the economy, HullCoin generates strictly as a reward for accomplishing a social goal.....
--------------------------------------------------------------------------------------